Wilt u ook in een flits van uw ongewenste haargroei af?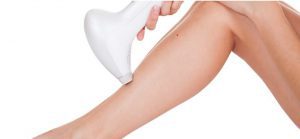 IPL en DPL behandelingen bieden een eenvoudige en pijnloze oplossing om van uw ongewenste haargroei af te komen.
Voordelen:
nooit meer scheren, harsen of epileren
geen irritaties, stoppels of ontstekingen
geen last van (pijnlijk) ingegroeide haartjes
Hoe werkt IPL/DPL:
IPL/DPL geeft in korte flitsen hoogenergetisch licht dat op de huid wordt gericht. Dit licht wordt door het pigment in de haar geabsorbeerd en naar de haarwortel geleid. Door selectieve verhitting worden de haarfollikels uitgeschakeld en de bloedvaten gedicht zonder dat de verdere huidstructuur wordt beschadigd.
Is de behandeling pijnlijk?
Door onze geavanceerde apparatuur (ISIS IPL/DPL 2+) is de behandeling pijnloos.
Hoe lang duurt een behandeling?
De duur van een behandeling is afhankelijk van het oppervlak dat behandeld moet worden.
Hoeveel behandelingen zijn er nodig?
Bij een behandeling worden alleen de haren getroffen die in de groeifase zijn. Gemiddeld zijn er tussen de 8 en 12 behandelingen nodig voor een optimaal resultaat.
Zowel mannen als vrouwen zijn welkom.
Voor en prijsoverzicht verwijs ik u naar: https://www.cosmediq.nl/prijzen/#laserbehandelingen